The WRAP. November 20, 2019. Angelina Jolie, Loung Ung and Rithy Panh spoke to TheWrap in Toronto about "First They Killed My Father" and its resonance in today's world. Read More…
Ms. Magazine. November 13, 2017 by Putsata Reang | In 1975, when war and genocide burst through Cambodia, Loung Ung was a 5-year-old girl scrambling—like seven million others—to stay enough steps ahead of starvation, exhaustion, disease.  Read More….
It's estimated that more than 90% of all artists died under the Khmer Rouge, and while fine arts, dance and music seem to have blossomed again, the Cambodian literature scene has been struggling. ~ The Guardian.  Read more…
October 24, 2017
WBUR: Radio Boston. Khmer Rouge Survivor Loung Ung On Her Memoir
In memory of another Cambodian treasure, I found this 1985 People Magazine article on Doctor Haing S. Ngor. He won the Academy Award for Best Supporting Actor later that year for his role as Dith Pran in the movie The Killing Fields. Doctor Ngor went on to have an illustrious acting career in Hollywood before he was killed in a robbery in 1996. Wherever you are, pou Ngor, may your spirit rest in peace and thank you for everything you have given to Cambodia and her people.
Last night I lit three incense sticks for pou(uncle) Dith Pran who passed away in 2008. I first met pou Pran in 1993;I was nervous and stumbled over my words as I shared my story with him. He was so kind and encouraging, and told me I should write it all down.

Arn Chorn Pond is another Cambodian treasure who have done so much for the country. We go way back to 1995 when our paths first crossed in Boston, MA, and since then, I've had the honor to call him a good friend, a brother, and a mentor. If you know want to know who the heroes are in Cambodia, read this article about Arn. 
The Diplomat-April 2017
Leading by example, he taught a nation how to forgive without forgetting.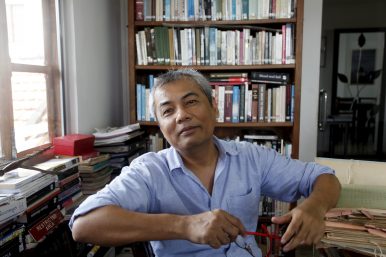 (Bong Youk Chhang is a national treasure. He has worked tirelessly for almost 30 years to search for the truth of what happened in Cambodia during the Khmer Rouge regime. I am fortunate to call him a mentor, but in truth, he is my hero. Loung Ung)