Last night I lit three incense sticks for pou(uncle) Dith Pran who passed away in 2008. I first met pou Pran in 1993;I was nervous and stumbled over my words as I shared my story with him. He was so kind and encouraging, and told me I should write it all down.

Arn Chorn Pond is another Cambodian treasure who have done so much for the country. We go way back to 1995 when our paths first crossed in Boston, MA, and since then, I've had the honor to call him a good friend, a brother, and a mentor. If you know want to know who the heroes are in Cambodia, read this article about Arn. 
The Diplomat-April 2017
Leading by example, he taught a nation how to forgive without forgetting.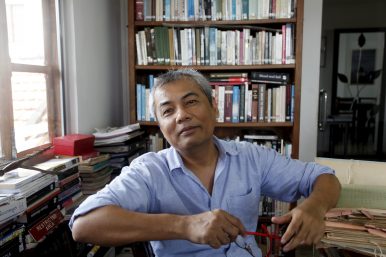 (Bong Youk Chhang is a national treasure. He has worked tirelessly for almost 30 years to search for the truth of what happened in Cambodia during the Khmer Rouge regime. I am fortunate to call him a mentor, but in truth, he is my hero. Loung Ung)
The Australian, October 7, 2017
Cambodian filmmaker Rithy Panh's tale of tragedy under the Khmer Rouge regime is an exercise in creative catharsis.
Angelina Jolie's "First They Killed My Father" is far and away her best work as a director: a rare film about a national tragedy told through the eyes and mind of a child, and as fine a war movie as has ever been made.
NPR: All Things Considered. The film First They Killed My Father begins in 1975 Cambodia, during the rise of the Khmer Rouge. The hard-line communist regime aimed to deport an entire nation into the countryside and form an agrarian utopia — but their experiment failed. People were forced to work, and they were also tortured, starved and executed. In the end, around a quarter of the country's population — roughly 2 million people — died.